KUMA's popular multipurpose chef knife has recently passed the milestone of 600 reviews on Amazon. A small family-run kitchen knife company, KUMA has already delivered several world-class products via Amazon.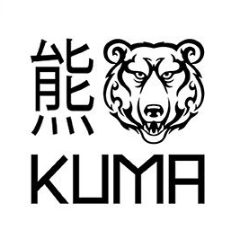 COPENHAGEN, DENMARK - October 17, 2019 —
KUMA is pleased to reveal that its popular multipurpose chef knife has received 600-plus reviews from Amazon shoppers to date. The product was designed to master the different cutting tasks encountered in everyday cooking, including slicing, chopping, mincing, or even carving. With cutting edge sharpness and precision, this 8 inch chef knife is available on Amazon.
The multipurpose chef knife from KUMA was designed with extreme care to ensure exceptional user experience, says the brand. To provide superior control and comfort, the product combines lightweight materials, a smooth ergonomic handle and an elegant Japanese-inspired profile design. The soft, yet durable blades of these knives are made using 3Cr13 stainless steel, a material rated highly for its resistance to corrosion and different types of acids. Also, 3Cr13 is known to be one of the easiest steel variants to sharpen. During production, the metal is tempered with careful timing to produce a fine balance between toughness and sharpness retention.
"This knife is fantastic. KUMA put exceptional quality and engineering into it. The handle is very comfortable and grip is not compromised when the knife gets wet. The blade is razor-sharp and cuts through anything I need it to," said a delighted user of the product. "The toughest test so far has been butternut squash, which was no problem for the knife. It ran through it like butter. I am very pleased with my purchase and would recommend this knife to anyone looking for a good value."
KUMA has also gained popularity in Amazon thanks to its Damascus steel chef knives. Owing to its 67 layers of premium Japanese Damascus steel, this product delivers extraordinary strength and longevity. The manufacturing of these corrosion-resistant Japanese steel knives involves an eight-stage engineering process and hand-finishing with KUMA's proprietary V-Shape sharpening technology.
Anyone interested in learning more about KUMA's chef knife 8 inch should visit the company's website or Amazon storefront.
###
Twitter: https://twitter.com/@KumaKnives
Facebook: https://www.facebook.com/Kuma-Knives-1869737226587027/
Instagram: https://www.instagram.com/kumaknives/
Youtube: https://www.youtube.com/channel/UCb2IKNkx0b04EE3uYRUhjxw/videos
About Us: KUMA was born out of the desire to create high quality kitchen knives that combine razor-sharp performance with high lightweight maneuverability all packaged in a beautiful aesthetic design.

Contact Info:
Email: Send Email
Organization: KUMA
Address: Islands Brygge 30B, 1., door 1 – 2300, COPENHAGEN, DENMARK
Phone: +45 20-646-834
Website: https://www.kumaknives.com/
Release ID: 88928913